Personalize our catalogs and flyers with your logo, contact information and more. Add them to your website, emails, marketing materials, proposals or post them to your social media sites. Please read our Community Guidelines and do not use logos and copyrighted material that do not belong to you.
Catalogs
Ahead Corporate 2017
AHEAD is the trusted headwear brand that consumers recognize and prefer for styling, great fit and creative ornamentation. Our assortment of golf accessories, commemorative items, travel pieces and leather goods are sure to inspire you with ideas for your next promotional campaign or event.
Customize
Airflyte Personalized Recognition Awards 2017
One of the largest selection of high quality recognition awards for corporations, schools and non-profit organizations. Featuring plaques, clocks, trophies, acrylic, art glass, crystal and glass awards. Complete decorating and fulfillment services.
Customize
Flyers
2 Pages
2017 Cardplant Holiday greeting card flyer
Greeting cards are an affordable relationship building tool proven to help build loyalty and increase retention rates. Elegant designs portray the success of the sender while making a great impression on clients, employees, and other business contacts.
Customize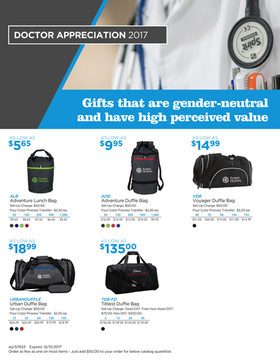 4 Pages
2017 Doctor Appreciation
Perfect products for Doctor Appreciation 2017.
Customize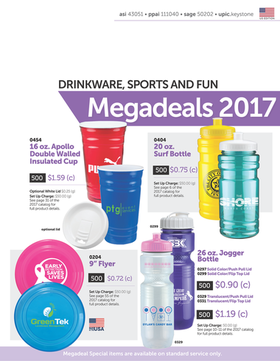 4 Pages
2017 Drinkware Sports and Fun Megadeals (US Pricing can be customized)
2017 Drinkware, Sports and Fun pricing valid through 12/29/2017!
Customize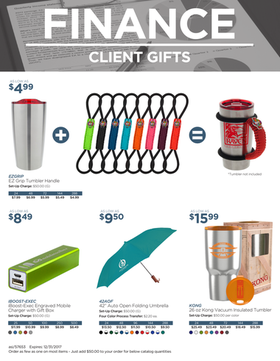 4 Pages
2017 Finance Buying Guide
Finance - Client gifts, employee gifts, and budget-friendly giveaways!
Customize