Personalize our catalogs and flyers with your logo, contact information and more. Add them to your website, emails, marketing materials, proposals or post them to your social media sites. Please read our Community Guidelines and do not use logos and copyrighted material that do not belong to you.
Catalogs
BIC Graphic Golf Guide 2017 US
New and Best Sellers in Golf!
Customize
BIC Graphic Holiday 2017 Canada
2017 Holiday Gift Guide. Making year-end gift-giving simple! Make your gifts personal with britePix(R) Personalization options.
Customize
BIC Graphic Holiday 2017 US
2017 Gift Guide includes great gift ideas and well known product brands such as KOOZIE, Kapston, JAM, pubWare, HoMEDICS, bubba, myCharge, Triumph Calendars and Titleist.
Customize
BIC Graphic JAFFA 2017 US
The highest level of craftsmanship can be expected from all products in our JAFFA line, your complete source for awards and recognition. Choose from 10 different categories featuring unique and distinctive items.
Customize
Flyers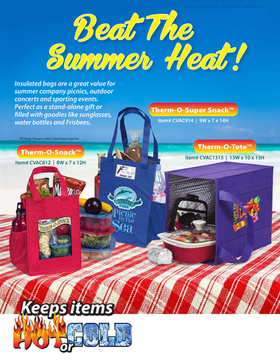 Beat The Summer Heat
Insulated bags are a great value for summer company picnics, outdoor concerts and sporting events. Perfect as a stand-alone gift or filled with goodies like sunglasses, water bottles and Frisbees.
Customize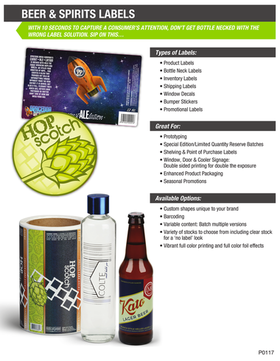 Beer & Spirits Labels
Craft breweries and distilleries are trending and labels for them are in demand-such as: product, bottle neck, packaging, inventory, shipping, promotional and giveaway stickers and decals, shelf and cooler signage, growler stickers, prototyping/seasonal
Customize
Beer Bucket End of Year Special
176oz and 2.5 gallon beer buckets. Brew tub holds 5-6 bottles and the party bucket is perfect for 6-8 bottles
Customize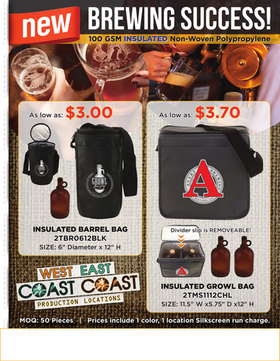 Beer enthusiast, check this out!
New for 2017-Two growler bags! First one is our Insulated Barrel Bag, perfect for a 64 ounce growler. Features a front slip pocket and adjustable strap. Second one is our Insulated Growl Bag, fits two 64 ounce growlers with a padded and removable divider.
Customize